Valtra and B&B Tractors
25 Years of tailor made tractors with four unique series and available in seven standard colours. Boasting Valtra's Unlimited Studio, giving you the owner, the ability to specify your own individual tractor through colour, interior, finish and build.
4 Series Available
A 75 - 130Hp - The A Series has a long and impressive heritage as the most popular tractor in Scandinavia, the A series is strong, lightweight and agile.
N 105 - 210Hp - You work hard for your money and want good value when you spend it. The N series tractor makes every penny count. Every day every season the N series is your working machine.
T 155 - 271Hp - The most compact 6-cylinder on the market. When it comes to power, there is a choice of 6.6 or 7.4 litre engine, producing between 155 and 271 horsepower. The600 hour service intervals cuts maintenance costs and the SCR torque.
S 270 - 405Hp - The total efficiency and productivity of the 5 series are the result of the first class work of our designer and the high quality implementation. And when operating the tractor is easy and comfortable, productivity can be taken to an entirely new level.
4 Ranges of Command
Hi tech - In Hi-tech and active, the transmission control is robotised so there are no mechanical gear levers, these tractors can be equipped with easy to use basic or with armrest that lets you operate all speeds with the small gear lever and cruise control.
Active - Valtra active is a revolutionary power shift technology with load sensing hydraulics at up to 200l/m. A hydraulic assistant and separate hydraulic and transmission oils.
Versu - Valtra versu is the king of the new generation power shift with electronic hydraulic control, a hydraulic assistant that has either 115, 160 or 200 litre output. By choosing a versu transmission, you get the ease of power shift and flexibility of a CVT in one package.
Direct - This is the flagship of the range. The drive lever control allows you to adjust the acceleration and deceleration with your right hand. The versatile velocity set ups have been further developed. We even offer a manual transmission control which is needed for some special crops/jobs.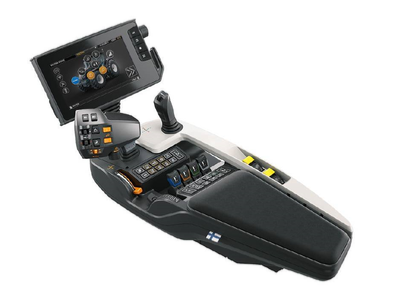 The all new SmartTouch Arm rest
All technology is integrated into the new easy to use touch screen, so no need for additional screens in the cab. Guidance, Section control, ISOBUS, telemetry, Agcontrol and TaskDoc all at the touch of your hand.
Available in the N, T, S series.
Click here to check out more..
Contact our Valtra specialist Tom Austin to discuss your needs.
Tom Austin
Mobile: 07487 239492 | Office: 01283 205497 | Email: tomaustin@bandbtractors.co.uk