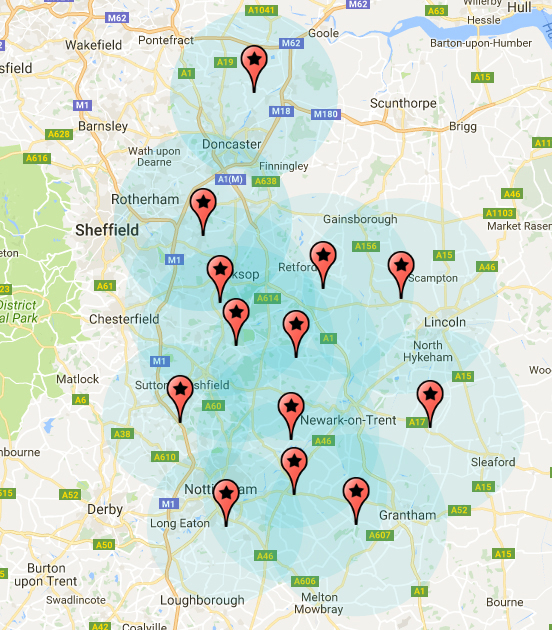 Introduction
---
Here at B&B, we do a lot more than just sell machinery! We are also one of the leading suppliers of Trimble GPS systems in the country.
We specialise in Trimble guidance systems, aiming to make farming operations more efficient and profitable. Using Trimble means you can quickly and easily improve you day to day planning, decision making and overall strategy of your operation.
We took the decision to supply Trimble GPS systems back in 2007. Our main reasons behind this was due to the flexibility of the machines the systems could fit to but also the relationship we gained with AS Communications who supply Trimble in the UK. There are plenty of different systems out there but we felt Trimble was the best suited to us with the amount of products & solutions we can offer a long with the back up which is paramount when supplying GPS equipment. The first pieces of Trimble equipment we sold was back in 2007 with two EZ-Guide 500 light bars. Since then we have sold over 300 items of Trimble equipment with a turnover of over one million.
Base Stations
---
We cover a vast area, all the way from Wickersley near Sheffield, Buckminster in Leicestershire to Sleaford in Lincolnshire! If you farm within the area we cover, contact us today for information on how you can precision farm with Trimble.
With 15 of our own Trimble base/repeaters, we created one of the first RTK networks in the East Midlands - covering Lincolnshire, Nottinghamshire and Leicestershire. This provides a cost effective network for growers over a large area. Unlike other providers, using Trimble signal means customers are not restricted by what brand (or colour) machinery they use.


Set-Up, Install & Back-up
---
We pride ourselves in giving a complete service with Trimble GPS. Our salesman have the details to promote and sell Trimble but it's the set-up, installation and back up that insures you get the best out of the system.
Our staff are trained to make sure your GPS system is set up correctly and installed to work to how you need it to. If you have a problem we are only a phone call away and if we are unable to fix the problem over the phone we will be out to rectify your issue. Our team which includes our demonstrator Steve Brown have many years of experience with Trimble GPS and we are always confident we can look after your system in the best possible way. If this means extra training on farm to get the best from the system then this is what we will do.
Over the last few years we have provided customers with precision farming days to keep up to date with GPS. It is extremely important that we are all kept up to date as there are always new systems and accuracies that can assist you with the work you carry out. Our Trimble supplier AS Communications are always at the forefront of promoting and assisting us with these important updates to new technology.
If you are having issues with your Trimble GPS or would just like some advice please give our Group GPS specialist a call:
Steve Brown | 07500 787013 | stevebrown@bandbtractors.co.uk
Trimble GPS Equipment
---
We can offer you equipment from basic manual guidance light bars (Mowing, Tedding, Raking) to Auto-Pilot RTK guidance (Spraying and Drilling) - from basic field data usage to individual sprayer nozzle control, we offer the very best in products and product support. There is a variety of different GPS equipment and our sales team will be able to find the right solution for you.
Our tractor brands Massey Ferguson, Fendt and Valtra can also be supplied with Trimble GPS systems from the factory and through their own tractor terminal. Please speak to our area sales representatives for more information on the tractors we sell and the GPS that can be supplied with them.
Displays

---



TMX-2050™ Display

In the middle of a busy season, the last thing you need is a complicated interface. The easy-to-use TMX-2050™ display features a large high-definition touch screen with sharp visuals and a choice of FmX® Plus or Precision-IQ™ display applications to suit your specific farm practices.




GFX-750 Display

The Trimble® GFX-750™ display system continues a strong tradition of sleek, easy-to-use displays from Trimble Agriculture. With a roof-mounted guidance controller, your cab will be clean and clutter free with this automated guidance system. Add in Bluetooth and Wi-Fi connectivity to go along with ISOBUS compatibility and you can tackle farming applications from every season across all of your equipment brands.




CFX-750™ Display

The CFX-750™ display is an affordable, multi-function guidance display offering key precision agriculture functionality. This intuitive display allows you to easily perform day-to-day farming tasks, extend your operating hours, and enhance productivity on your farm.




EZ-Guide® 250 System

The Trimble® EZ-Guide® 250 system is an entry-level display providing high-quality guidance capabilities at an entry-level price. It is ideal for farmers who desire basic precision agriculture functionality for fields that require lower-accuracy corrections.
Steering Systems
---
Autopilot™ Automated Steering System

Automated, hands-free, steering system installs directly into hydraulic system, delivers highest-accuracy steering in any field type.




Autopilot™ Motor Drive System

Electric, hands-free, automated steering system with easy installation onto steering column, delivers highly-accurate, Autopilot-level steering.




EZ-Pilot® Assisted Steering System

Assisted steering with integrated electric motor drive for high accuracy at an affordable price.




EZ-Steer® Assisted Steering System

Assisted steering system providing portable, hands-free farming for more than 1200 vehicle makes and models.