MANITOU EXPANDS AGRICULTURAL AREA WITH B&B TRACTORS


B&B Tractors are expanding their Agricultural area with Manitou, effective 1st June 2023.
The recent decision of Chandlers Farm Equipment to relinquish the Manitou franchise has provided Manitou with the opportunity to provide an expanded geographical area of responsibility to a long-established Manitou dealer. As of 1st June 2023, B&B Tractors will take responsibility for the area currently covered by Chandlers Farm Equipment and will open a new dedicated Manitou depot trading as B&B Machinery. This depot will carry an extensive stock of Manitou parts and machines and will be operated by a team of staff dedicated to Manitou.
Established in 1991, B&B Tractors is a family-owned and managed business that currently operates out of four depots, covering Nottinghamshire, South Yorkshire, Derbyshire, Staffordshire, Warwickshire and Leicestershire. With over 30 years' experience within the farming community, B&B Tractors pride themselves on delivering the highest level of customer care and experience to their customers, offering world-class products and services, reducing downtime and providing a one-stop shop for all sales and aftersales needs.
Mark Ormond, Managing Director of Manitou UK Ltd, says "B&B Tractors is a very established dealer with a strong history and commitment to Manitou and our mutual customer base. I am delighted that the business will now establish a dedicated Manitou outlet in Lincolnshire to serve Manitou customers in that area".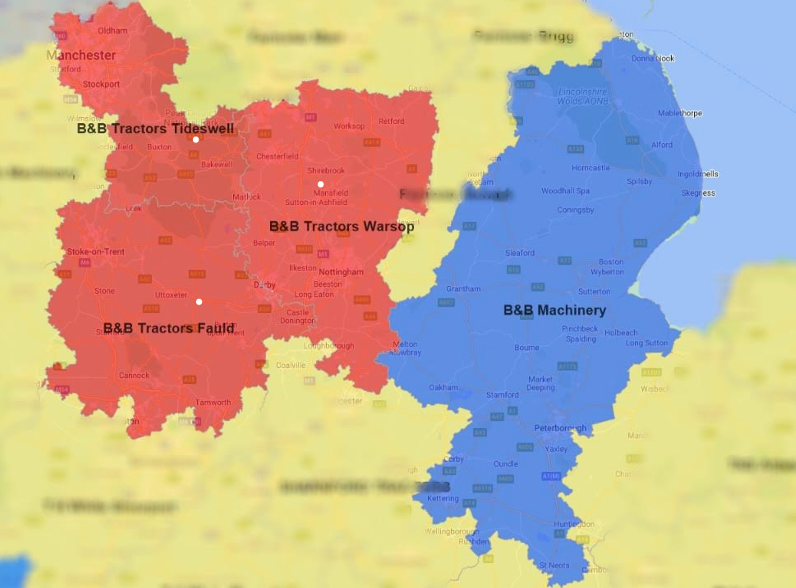 B&B Tractors' current allocated area of responsibility is shown in red on the map opposite, the white dots representing their existing depots and the new company B&B Machinery being responsible for the blue shaded area. A new, centrally located, permanent depot is planned and will be based in the Sleaford/Swineshead area.
The address for B&B Machinery will be announced shortly, but support can already be obtained using the details below:
Tel: 01205 600 900
Email: sales@bandbmachinery.co.uk
service@bandbmachinery.co.uk
parts@bandbmachinery.co.uk


James Bowring, Managing Director of B&B Tractors, comments "We are thrilled to be working with Manitou and their team in the Lincolnshire area. We already have some relationships with customers within our new area and we understand that aftersales support is vital. That is why we have chosen to run a dedicated team from a new premises, under the new B&B Machinery name, to focus on providing the best level of service that Manitou customers deserve. We are working hard to get everything in place to provide our new team and customers with a depot that will fully support their needs, and we look forward to Elevating your Farming Experience soon".